III.




THE

DEPARTMENT
of


ĐẠI-VIỆT

M

EDIEVAL

M

ARTIAL

A

RTS

BỘ-VIỆN
VÕ-TRẬN ĐẠI-VIỆT
大 越 武 陣
部院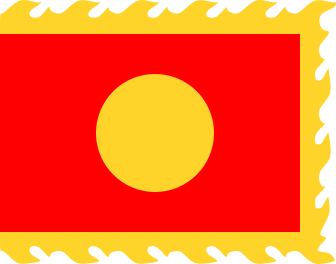 Tây-Sơn Dynasty Flag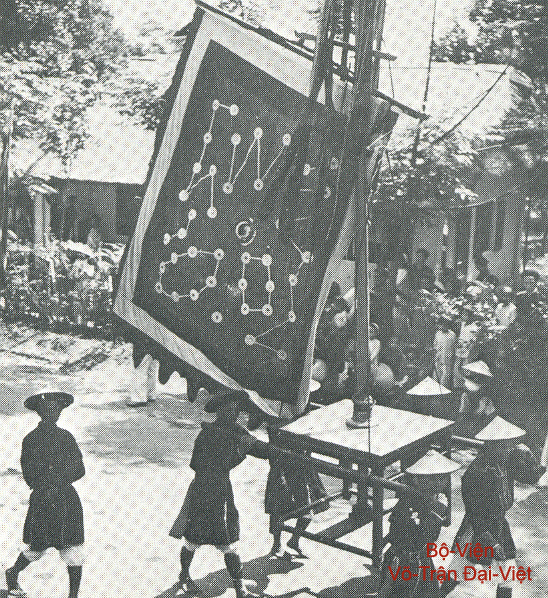 Parade of the Constellations Banner
(Each Constellation representing a Great City of the Nation )
The Tradition :
About « Battlefields Martial Arts from Đại-Việt » (Võ-Trận Đại-Việt), we can say that the Year of Dragon 1880 was the one of the last Examination of Military Recruitment in Việt-Nam under the Reign of Emperor Tự Đức Nguyễn Phúc Hồng Nhậm ( 阮 福 洪 任) (1829-1883) from NGUYỄN Dynasty (1802-1945).
Then so, the Examination of Military Recruitment was given up for ever and Martial Arts from Temps Médiévaux were no more encouraged by the nation ; they were only preserved in silence by rare illustrious Families of Battlefields Martial Arts Masters...
Thus, there are in nowadays Martial Arts Lineages as : the one from Grand Master PHẠM-Tường, father of Grand Master PHẠM-Hiếu and master of the Grand-Master LÊ-Hải (celebrious under the war name "Sáu HÀ") and whom successor descendant is the current Grand Master PHẠM-Thi - all belonging to the Battlefield Martial Arts School System from Founder Grand Master PHẠM-Khảo, the First Rank Military Commander Mandarin of Imperial court.... .those from Grand Master Khiển-PHẠN and Grand Master Khiển-THI (NGUYỄN Văn Thi), War Chiefs of Generalissimo Mai Xuân Thưởng and whom successor was Grand Master NGUYỄN Văn Hàm, father of current Grand Master Ba-PHONG (NGUYỄN Văn Trá..., these from Grand-Masters Lâm-Hữu-Phong, Lâm-Đình-Thọ (Hương-Kiểm Lài), Xả NUNG, Hai-HỰU, Xả-ĐÀNG HÀ-Hân, TRƯƠNG Thanh Đăng... And this Tradition of Martial Career from "Martial Arts Region - Miền Đất Võ" needs truthly an appropriate preservation and restoration by concrete constructive acts.
The Conservation and the Restoration :
Faced with the Martial Career Tradition from Martial Arts Region of Bình-Định in paticular and of Vietnamese Nation in general, çn the grip of a decline because of sociopolitical events, Vietnameses from all horizons, liking the Culure of Martial 'Arts Studies bequeathed by Ancestors since so much centuries, want unanimously being able to devote oneself to their Conservation and Restoration, so that this National Intangible Cultural Heritage can exist and endure in the future...
Thus, in 1997, aiming at the goal for preserving efficiently and restoring correctly the cultural heritage of Traditional Martial Arts and Battle Fields Martial Arts of the Ancients, Master TRỊNH Quang Thắng, in the apolitical and non-profit spirit, established the « Department of Võ-Trận Đại-Việt ».
In 2004, the WEBsite : http://www.salongcuong-france.org was opened and replaced later by the WEBsite : http://www.binhdinh-salongcuong.org.
Concretly, the « Department of Võ-Trận Đại-Việt » includes Three established Sections :
1.- The Section of Đại-Việt's Medieval Martial Arts Teaching from Khiển-TƯỜNG, Khiển-PHẠN, ... ;
2.- The Section of Orthographic Studies and Correction of Coded Poems from Codified Sequences ;
3.- The Section of Historic Studies and Re-enactment of Đại-Việt Medieval Weapons and Armours.
VÕ-TRẬN-ĐẠI-VIỆT
Bình-Định Sa-Long-Cương
FRANCE
Copyright © 2004 - 2018 by ACFDV - All rights reserved.